Unlocking the Beauty of Skin Tones: A Comprehensive Guide to Understanding the Skin Tone Chart
October 20, 2023
2023-10-23 11:14
Unlocking the Beauty of Skin Tones: A Comprehensive Guide to Understanding the Skin Tone Chart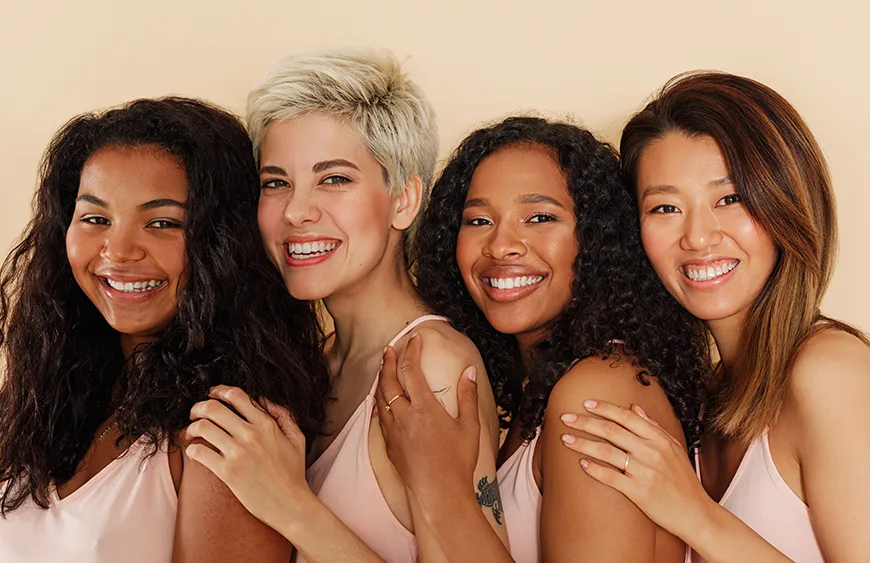 Unlocking the Beauty of Skin Tones: A Comprehensive Guide to Understanding the Skin Tone Chart
The world of beauty and makeup is as diverse as the people who use it. When it comes to selecting the perfect foundation, lipstick, or eyeshadow, understanding your skin tone is essential. Skin tone is not just about being fair or dark; it's a spectrum of colors and undertones that make each individual unique. To help navigate this spectrum, a valuable tool does exist – the skin tone chart. In this comprehensive guide, we will delve into the world of skin tones, skin undertones, and explore how to use a skin tone chart effectively to enhance your beauty regimen.
Before we delve into the specifics of a skin tone chart, it's crucial to understand what skin tone actually means. Skin tone refers to the color of your skin's surface, which is primarily determined by the amount of melanin present in your skin. Melanin is the pigment responsible for giving color to our skin, hair, and eyes. It is produced by specialized cells called melanocytes.
There is a wide range of skin tones, and these can be broadly categorized into the following categories:
People with fair skin tone typically have a lighter complexion and may burn easily in the sun. Their skin tones can range from pale ivory to light beige.
Those with light skin have a slightly darker complexion compared to fair skin, but it's still on the lighter side of the spectrum.
Medium skin tones encompass a wide range of colors, from light tan to olive to caramel. People with medium skin often tan easily and rarely burn.
Olive skin tones have a warm, golden undertone and often tan beautifully. This complexion is common among individuals with Mediterranean or Hispanic heritage.
People with tan skin tones have a rich, sun-kissed complexion that can range from warm golden brown to deep mocha.
Deep skin tones are characterized by a dark, rich color, which can vary from dark brown to ebony. Individuals with deep skin tones rarely burn and may have a naturally radiant look.
The Importance of a Skin Tone Chart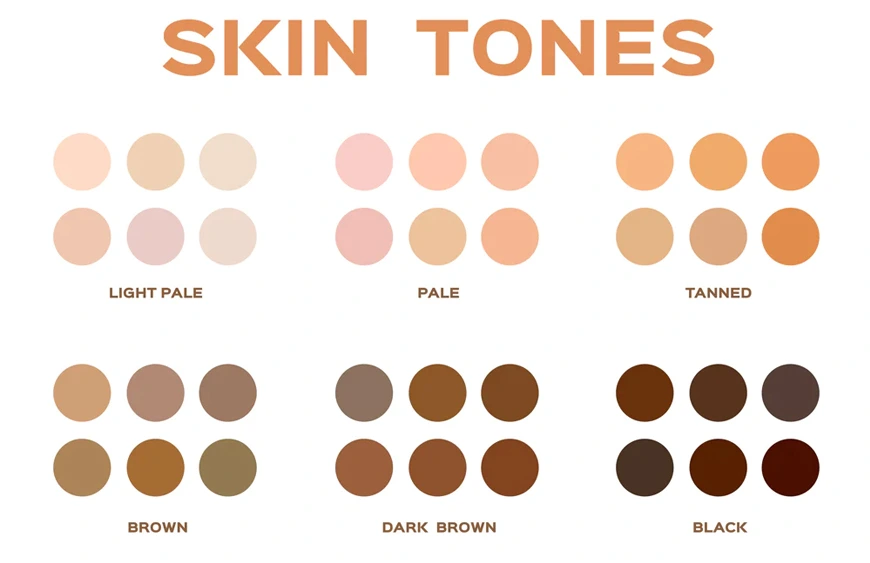 Now that you understand the basics of skin tones and undertones, let's explore the significance of a skin tone chart. A skin tone chart is a visual guide that helps individuals identify their skin tone and undertone more accurately. It's a handy tool for selecting makeup products, clothing, and hair colors that complement your complexion.
How to Use a Skin Tone Chart
Using a skin tone chart is relatively straightforward, but it requires a bit of observation and understanding. Here's a step-by-step guide on how to effectively use a skin tone chart:
Always examine your skin in natural daylight. Artificial lighting can distort your skin's appearance, making it challenging to determine your true undertone.
Look at the veins on the underside of your wrist. If they appear more greenish, you likely have warm undertones. If they appear bluish or purplish, you probably have cool undertones. If you can't discern a clear green or blue hue, you might have neutral undertones.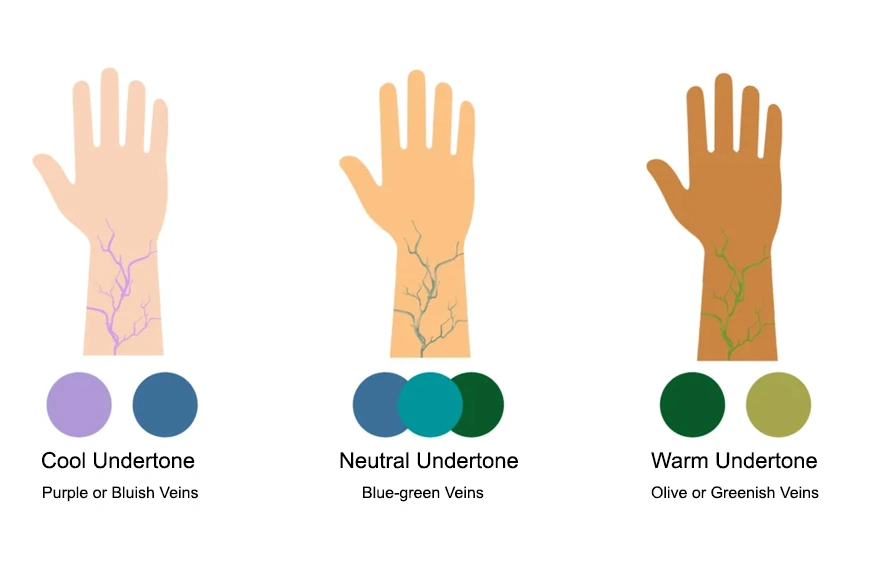 Consider the jewelry you feel most comfortable wearing. If you prefer gold jewelry, you likely have warm undertones. If silver jewelry complements your skin better, you probably have cool undertones. Neutral undertones can typically wear both gold and silver jewelry.
Pay attention to the colors that make your skin look vibrant and healthy. Warm undertones tend to look great in earthy tones, while cool undertones shine in jewel-toned colors. Neutral undertones can pull off a wide range of colors.
5. Skin Tone Chart Comparison:
Compare your findings from the previous steps to a skin tone chart. These skin tone charts often feature a range of skin tone colors with descriptions such as fair, light, medium, and deep. Additionally, these charts indicate whether a particular shade has warm, cool, or neutral undertones.
Types of Skin Tone Charts
1. Traditional Skin Tone Charts:
These charts display a range of skin tones from light to deep, accompanied by descriptions of undertones. They often serve as a starting point for choosing makeup shades.
2. Seasonal Color Analysis:
This type of chart categorizes individuals into seasonal color groups – spring, summer, autumn, and winter. Each season corresponds to a specific set of colors that flatter your skin tone and undertones.
3. Foundation Shade Matching Charts:
Makeup brands often provide charts to help customers find the perfect foundation shade. These charts are specific to the brand's product line and include a wide range of shades with corresponding undertone information.
Understanding Skin Undertone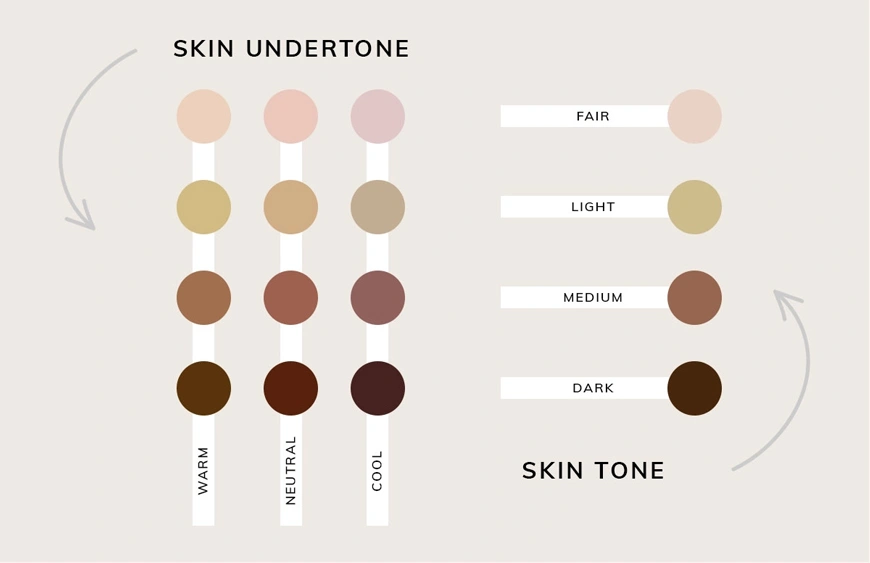 Skin undertones refer to the subtle hues beneath the surface of one's skin that influence how colors appear on the skin. There are three primary undertones: cool, warm, and neutral. Cool undertones have hints of pink, blue, or purple, warm undertones possess golden, yellow, or peach tones, while neutral undertones strike a balance between cool and warm. Understanding your undertone is crucial for choosing flattering makeup and clothing colors.
If you have a neutral skin undertone, then you have the flexibility to experiment with both warm and cool colors. Here's how to make the most of your neutral undertone:
You can choose foundation shades that are labeled as neutral or those with balanced undertones. This will help you achieve a natural look.
Neutral undertones look great in a wide range of lipstick shades. Feel free to explore various colors and find what suits your mood and style.
 Experiment with both warm and cool eyeshadow shades. You can pull off earthy tones and jewel-toned colors equally well.
You have the freedom to wear a broad spectrum of colors. Enjoy mixing and matching different hues to create diverse looks.
Cool skin undertones are characterized by hints of pink, red, or blue beneath the skin's surface. Here are some guidelines for individuals with cool undertones:
Look for foundation shades labeled as cool or with names like "rosy," "pink undertone," or "cool beige."
Cool skin undertones shine in lipstick shades like berry, plum, and cool-toned reds. These colors complement your skin's natural coolness.
Cool-toned eyeshadows in shades of lavender, gray, and cool browns can enhance your eye color and overall look.
Jewel-toned colors like emerald green, sapphire blue, and deep purple can make your complexion skin undertone stand out.
While blue undertones of skin are relatively uncommon, they do exist and can be quite striking. If you suspect you have blue skin undertones, consider the following tips:
 Blue undertones may benefit from neutral or slightly cool foundation shades that help balance their unique undertone.
Bold, cool-toned lip colors like deep purples and vivid pinks can beautifully complement blue undertone skin.
Cool-toned eyeshadows in shades of navy blue, deep violet, and silvery gray can make your eyes pop if you have a blue undertone.
Jewel tones and cool colors can harmonize with your blue skin undertones, making your skin look vibrant.
To make it short, understanding your skin tone and undertone is a crucial step in enhancing your beauty routine. A skin tone chart can be your best friend in this journey, helping you make informed choices when it comes to makeup, clothing, and jewelry. Whether you have a warm, cool, neutral, or even blue undertone, knowing your unique complexion will empower you to look and feel your best every day. So, take the time to explore the world of skin tones, and let the beauty of your true colors shine bright like a diamond.