Exploring the Origins, Influences, and Key Elements of Egirl Hair Trends
September 4, 2023
2023-12-06 8:34
Exploring the Origins, Influences, and Key Elements of Egirl Hair Trends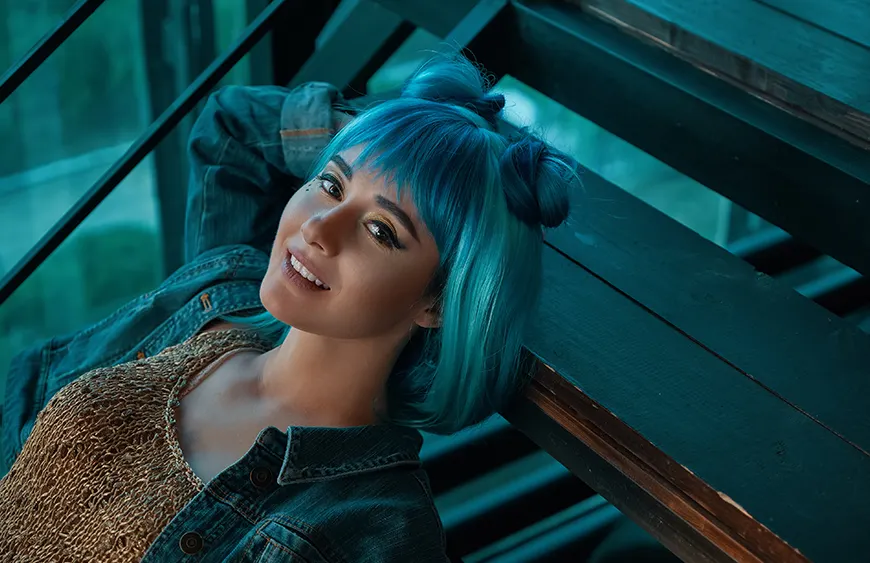 Exploring the Origins, Influences, and Key Elements of Egirl Hair Trends
In the ever-changing world of fashion and beauty, trends emerge and fascinate the globe. The E-girl hair style is one such current fad that has gotten a lot of attention. This eye-catching design is defined by its unique blend of alternative and digital aesthetics, making it popular among the younger generation. In this blog, we'll delve into the world of Egirl hair trends, from its origins and influences to the key characteristics that define this unique style.
What is an E-girl Hair style? Exploring Origins and Definition:
The word "Egirl" came from online gaming and internet culture, but it has now evolved into a fashion trend. An Egirl is more than simply a hairdo; it's a subculture with a distinct look that takes inspiration from goth, emo, anime, and kawaii cultures. The E-girl hair is important to this subculture, a bold and unique decision that symbolizes the digital era's individual identity.
Most common types of e-girl hair styles
1. Blonde and Black Hair:
Many face serums contain chemicals that profoundly hydrate the skin, such as hyaluronic acid, glycerin, or ceramides, helping to seal in moisture and keep the skin plump and supple. Some serums contain vitamin C, niacinamide, or licorice extract, which can help minimize the appearance of dark spots, hyperpigmentation, and uneven skin tone, resulting in a brighter complexion.
Colored bangs are a distinguishing element of E-girl hair, providing a creative opportunity for self-expression. Egirls play with a variety of colors, from delicate pastels to bright neons, to create a compelling contrast with their natural hair color. This style represents lighthearted disobedience of conventional rules, letting individuals to express their own identities via their hair. Colored bangs mix nicely with the overall Egirl image, which combines alternative, digital, and subcultural inspirations to emphasize individualism within the subculture.
2. Neon Fringe Highlights:
For those who thrive on standing out, neon fringe highlights offer an electrifying twist to the Egirl hairstyle. Vibrant neon shades like fluorescent yellow, intense orange, and bold green are strategically applied to the front sections of the hair, creating a dynamic and attention-grabbing fringe.
Pigtails add a playful and youthful charm to the Egirl look. Dividing the hair into two sections and securing each with hair ties or ribbons, pigtails evoke innocence and a carefree spirit. Egirls often infuse their pigtails with colorful streaks or highlights to enhance the overall style.
Cherry pink streaks inject a burst of vibrant color into Egirl hair. These streaks can be strategically placed to frame the face or interwoven with layers, creating a dynamic and multidimensional effect. The cherry pink hue exudes energy and confidence.
6. Black and White Hairstyles:
Black and white hairstyles play with the timeless allure of monochromatic contrasts. Egirls combine their dark hair with white streaks or sections, producing a bold and striking visual juxtaposition. This style exudes a sense of sophistication and uniqueness.
Bleached hair is a canvas for boundless creativity within the Egirl trend. Platinum blonde or silver-gray hair serves as a versatile base for experimenting with various colors and highlights. Egirls use bleached hair as a foundation to explore a spectrum of hues, from soft pastels to bold neons.
The Sleek High Pony is a refined take on the iconic Egirl hairstyle, providing a polished and beautiful appearance. The Sleek High Pony, in contrast to the flowing waves and bright colors generally associated with Egirl hair, includes straightened hair pulled into a high ponytail at the crown of the head. This look emanates elegance and sleekness, making it ideal for instances when a more polished appearance is required. Wrapping a portion of hair around the elastic and fixing it with a bobby pin gives the ponytail a professional look that elevates the entire appearance. The Sleek High Pony exemplifies the adaptability of the Egirl trend, letting people express their distinctive style in a more refined way.
9.Braided E-girl Hairstyles:
Braided E-girl hairstyles give the lively E-girl trend a boho touch by blending colorful accents with elaborate braiding. These styles include half-up half-down crowns, space buns, and pigtails, and range from modest accents to elaborate designs. Braids give the iconic E-girl style dimension, depth, and a handcrafted feel. Whether it's a single braid among rainbow waves or a braided headband with jagged bangs, these E-girl hairstyles provide a creative platform for individual expression.
The shag mullet is a daring and dramatic haircut that blends mullet and shag features, challenging conventional beauty standards. Shorter front and sides meet longer, textured layers in the rear to create a rebellious and unique look. Its popularity originates from its unabashed acceptance of uncommon beauty in an otherwise monotonous environment. The shag mullet's texture, mobility, and versatility allow for distinctive self-expression via hair. It's more than a haircut; it's a declaration of authenticity and confidence inside the Egirl and Eboy subcultures.
Pink curtain streaks are a delightful and enticing hair trend that adds playfulness and refinement to one's hairstyle. These streaks, which resemble split curtains, are usually a delicate and dreamy hue of pink, providing a subtle contrast with the main hair color. Pink curtain streaks, whether applied to frame the face or spread throughout the hair, add a modest yet aesthetically appealing accent to the entire design. This hairstyle celebrates the delicate balance of subtlety and originality, making it a popular choice among individuals looking to inject a sense of fun and elegance into their hairdo, particularly among the E-Girl subculture.
13. Goth-Inspired Face Framing Highlights:
Goth-inspired face framing highlights add a dark and dramatic twist to classic highlighting techniques. These highlights, which are frequently in deep, melancholy colours such as onyx black, deep burgundy, or midnight blue, frame the face and provide a stunning and captivating contrast with the underlying hair color. This look adds a touch of gothic appeal to the E-Girl aesthetic's propensity for bold and unique beauty. Face framing highlights inspired by Goth are a testament to the subculture's embracing of varied styles, providing a compelling and edgy approach to self-expression via hair.
15. E-Girl with Black Hair and Ash Blonde Streaks:
A black-haired E-Girl with ash blonde streaks emits a striking contrast of aggressiveness and grace. This eye-catching design combines the power of black with the softness of ashy blonde. It's a look that represents the E-Girl aesthetic's blend of rebelliousness and refinement.
16.Long E-Girl Hairstyles:
Long E-Girl hairstyles provide an endless canvas for enthralling creativity and diversity. Because of their length, these styles allow for complicated layers, waves, and vibrant colors, resulting in an attractive and expressive look. The length emphasizes the whimsical charm and individualism that characterizes the E-Girl subculture, making it a popular option among individuals who want to make a bold and distinct statement with their hair.
17.Half-up E-Girl hairstyles:
Half-up E-Girl hairstyles which include collecting the top half of the hair while leaving the remainder flowing, are a sleek and adaptable choice within the E-Girl trend. These looks provide a creative canvas for displaying colorful hair colors, jagged bangs, and eye-catching accessories, all while keeping hair off the face. They represent originality and inventiveness within the E-Girl subculture, offering a functional but fashionable method to show one's distinctive style.
Galaxy hair is a captivating and exotic hair style that draws inspiration from the cosmic mysteries of the cosmos. This design has an elaborate combination of brilliant, swirling hues suggestive of faraway galaxies, nebulae, and celestial bodies. Galaxy hair is a stunning, ever-changing masterpiece that often includes a mix of deep blues, purples, pinks, and dazzling silver or iridescent tones. It's a look that honors the E-Girl subculture's boundless inventiveness and uniqueness, allowing people to appreciate the beauty of the universe in their own unique manner.
19.E girl with black hair:
A girl with black hair adorned with jewel bobby pins exudes an elegant and enchanting aesthetic. The stark contrast between the deep black hair and the shimmering jewel-adorned pins creates a captivating and visually arresting look. This style not only adds a touch of glamour but also highlights the intricate and personalized approach to hairstyling, reflecting the individuality and creativity often associated with the E-Girl subculture.
Creating the Perfect Egirl Waves:
One of the most distinguishing features of Egirl hair is its characteristic free waves. Smooth waves need a combination of knowledge and the right gear. Here's a step-by-step plan for obtaining the necessary waves:
To begin, make sure your hair is clean and dry. Use a heat protectant to protect your hair from styling tools.
Sectioning:
Divide your hair into manageable sections with hair clips or bands. Smaller sections make it easier to curl your hair.
Curling Method:
Using a curling wand or iron, wrap a section of hair around the barrel without using the clamp. Before releasing, hold for a few seconds. Remember to leave your hair ends out for a more relaxed appearance.
Curl each piece in a different direction to get a more natural-looking wave pattern. Some curls may be eliminated by wrapping them away from your face, while others can be coiled in the other direction. Allow the curls to cool completely before touching or styling them again. This will help the curls to set and linger longer.
Texturizing:
Once the curls have cooled, softly brush your fingers through them to break them up. This will produce the signature textured and loose waves.
Finishing Touch:
Use a flexible hold hairspray to keep your waves in place without feeling stiff.
Maintaining the health of your Egirl hair requires the use of the correct haircare and styling equipment. Here are a few ideas:
Color-Protecting Shampoo and Conditioner: Use a color-protecting shampoo and conditioner to keep your multicolored hair vibrant.
Texturizing Spray:
Texturizing spray gives volume and a lived-in look to your waves, giving them that effortless texture.
Heat Protectant:
Use a heat protectant before utilizing any heat styling products to protect your hair from harm.
Flexible Hold Hairspray:
Use a flexible hold hairspray to lock in your waves without compromising mobility.
Hair Clips and Accessories:
Buy a range of hair clips and accessories to go with your Egirl look.
To create the perfect Egirl waves, you'll need the right tools:
Curling Wand:
A curling wand with a larger barrel size (around 1 to 1.5 inches) is ideal for achieving loose waves.
Hair Straightener:
For more relaxed waves, you can use a hair straightener to create bends in your hair.
Clips or Bands:
Sectioning clips or hairbands will help you divide your hair into manageable sections for styling.
The Egirl hairstyle is a canvas for self-expression, creativity, and individuality. It embodies the digital generation's ability to blend diverse influences, from subcultures to online trends, into a unique and captivating style. With its colorful hair, choppy bangs, layered cuts, and playful accessories, the Egirl hairstyle continues to evolve and captivate, inviting individuals to make a statement and embrace their authentic selves in a digital world. Whether inspired by anime, goth, or a desire to stand out, Egirl hair trends showcase the power of personal style and the boundless possibilities of self-reinvention.
And now, armed with the knowledge of achieving those perfect waves, selecting the right products, and using essential tools, you're ready to rock your own Egirl hairstyle and join the ranks of this iconic trend.