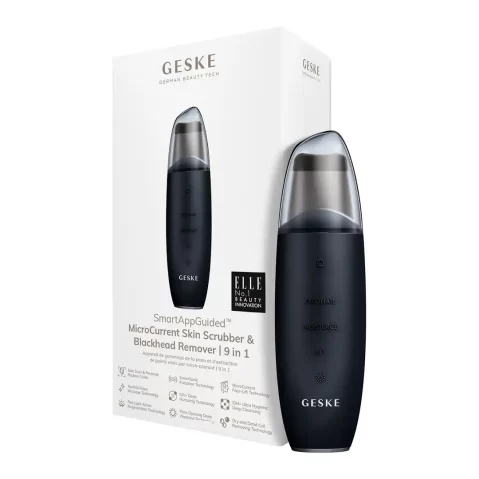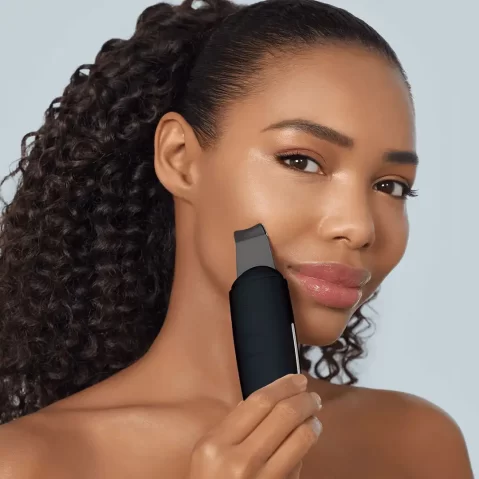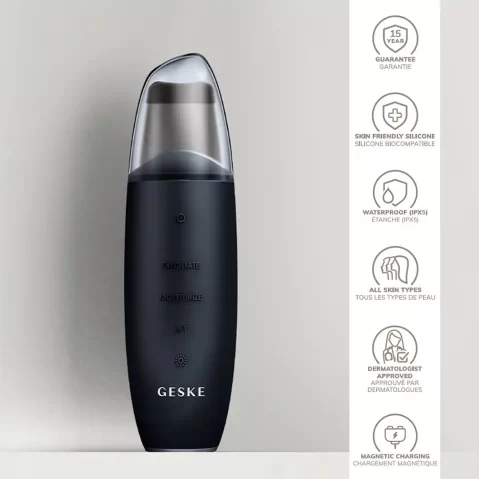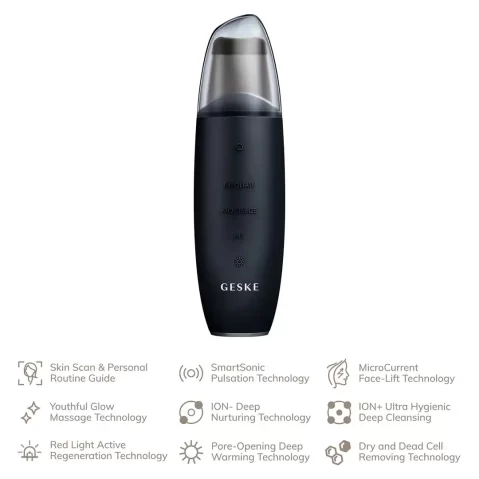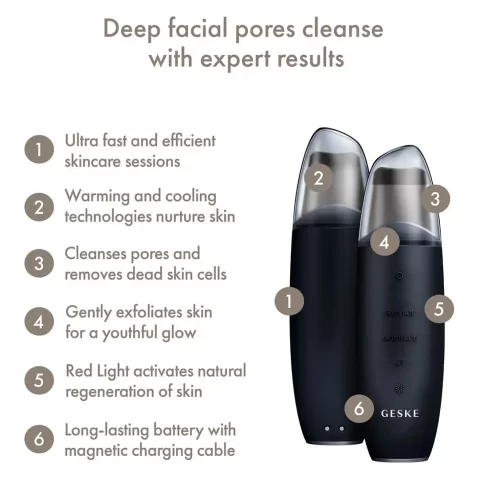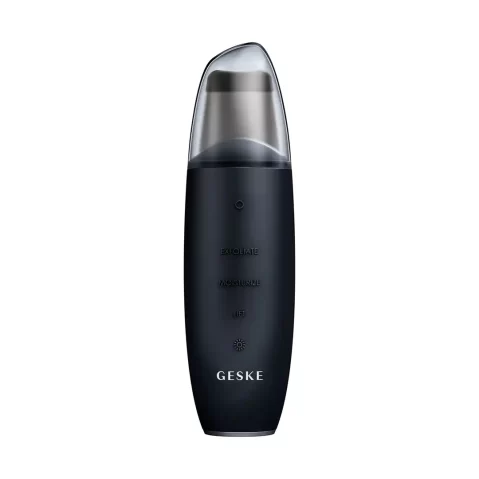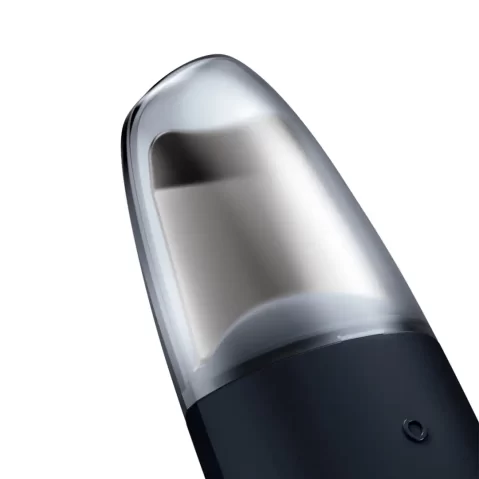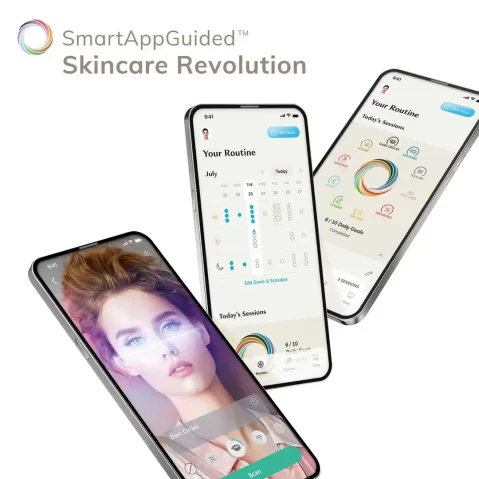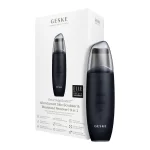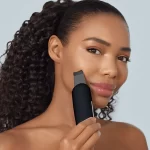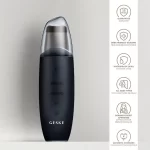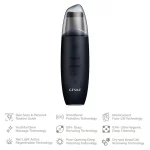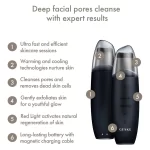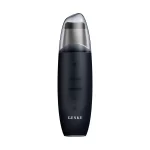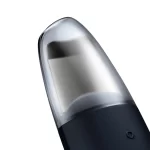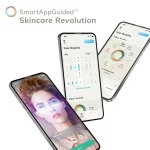 GESKE MicroCurrent Skin Scrubber & Blackhead Remover 9 in 1
This 9-in-1 black microcurrent skin scrubber and blackhead remover offers comprehensive skincare functions to cleanse and improve your skin.
Benefits
Energizing Anti-Aging Routine
Achieving younger and healthy looking faces
Removal of dry and dead skin cells All skin types
Reduces the duration and effort of your anti-aging routine to a minimum
Builds collagen, restores elastin and tightens your face
Lifts, firms and tones the skin
Increases blood circulation, eliminates toxins and relieves tension in the face
26
people are viewing this right now
Out of stock

Guaranteed safe & secure checkout
Multiple advanced technologies in one device: The SmartAppGuided™ MicroCurrent Skin Scrub and Blackhead Remover | 9 in 1 is the perfect device for perfect, radiant skin.
The SmartAppGuided™ MicroCurrent Skin Scrub and Blackhead Remover provides the most efficient microcurrent-based workout for you.
Using our advanced MicroCurrent Face-Lift and SmartSonic pulsation technologies, this advanced device stimulates more than 65 muscles in your face and neck to improve facial contour, tone and control fine lines. At the same time, the dry and dead cell removing technology frees your skin from old skin cells, leaving your skin soft and smooth. Through a daily 5-minute workout that offers an anti-aging massage, a MicroCurrent Face-Lift and an ultra-hygienic deep cleanse, you'll be on the fast track to a firmer and brighter complexion.

More Products
Geske
We deliver on beauty industry promises with science-backed technology and ergonomically designed skincare devices and products that do exactly what they were meant to do: restore the perfection that you were born with.
| | |
| --- | --- |
| Name: | Microcurrent Skin Scrubber Black Head Remover 9in1 |
| Model: | GK000044GY01 |
| Brand: | GESKE |
| Color: | Gray |
| Material: | Silicone, ABS, PC, stainless steel, copper |
| Power Source: | Battery(Lithium-ion 3.7V) |
| Battery Capacity: | 700 mAh |
| Maximum Charging Current: | 450 mA |
| Charging Voltage: | 5 V |
| Charging Time: | Ok. 3,5 h |
| Interface: | USB |
| Item Dimensions: | 15.5 x 4.4 x 3.2 cm; |
| Application: | GESKE German Beauty Tech |
| Item Weight: | 107 Grams |
Note: This product is a skincare device, not a medical device. It provide beauty benefits only but doesn't provide any product function for medical efficacy.
GESKE MicroCurrent Skin Scrubber & Blackhead Remover
User Manual + Quick Start Guide

GESKE MicroCurrent Skin Scrubber & Blackhead Remover 9 in 1
Description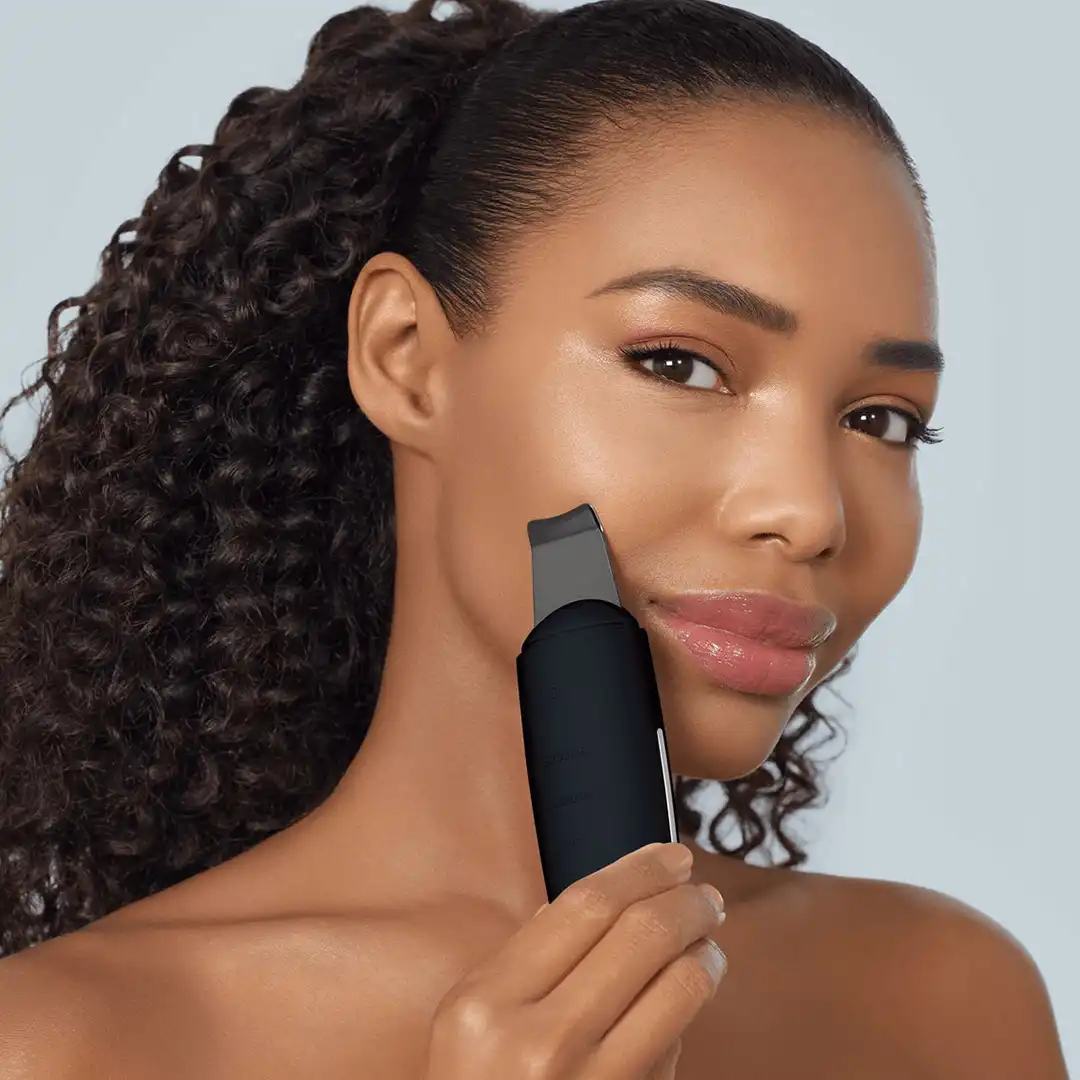 GESKE Microcurrent Skin Scrubber & Blackhead Remover 9 in 1
Microcurrent Skin Scrubber takes your skin care to a new level. GESKE 9 in1 peeling will allow you to quickly and effectively remove impurities, improve the appearance of the skin, give it a beautiful glow, remove blackheads and smooth out fine wrinkles. It also offers a firming massage and toning effect. The device uses a number of advanced technologies, so you only need to spend about 5 minutes a day on care treatments to achieve the desired results. There is also a dedicated application that generates personalized care plans and allows you to watch interesting video guides. Elle magazine recognized the GESKE brand with the title No.1 Beauty Innovation – trust proven solutions!
The device supports advanced Microcurrent Face-Lift technology, which stimulates over 65 facial muscles to improve facial contours, firm the complexion, reduce the appearance of fine wrinkles, improve natural regeneration processes and minimize the signs of aging. In addition, the Dry & Dead Cell Removing technology thoroughly cleanses the skin, penetrating its deeper layers and removing pimples, dry epidermis and dead cells. SmartSonic Pulsation technology is also responsible for the effective removal of impurities and makeup residues. Enjoy smooth, radiant skin for longer!
Note: To use MicroCurrent Face-Lift, you need GESKE MicroCurrent Moisturizing Lifting Gel.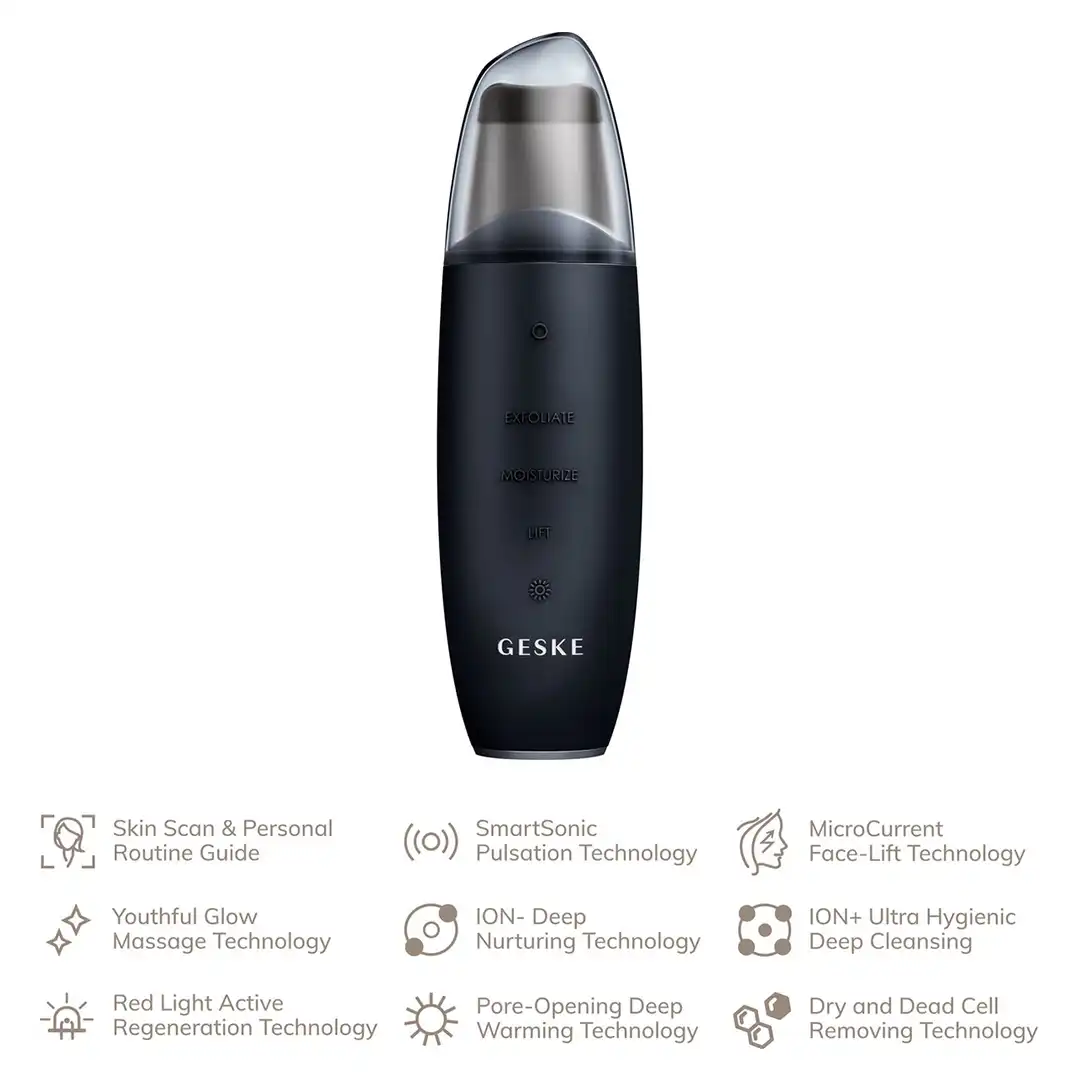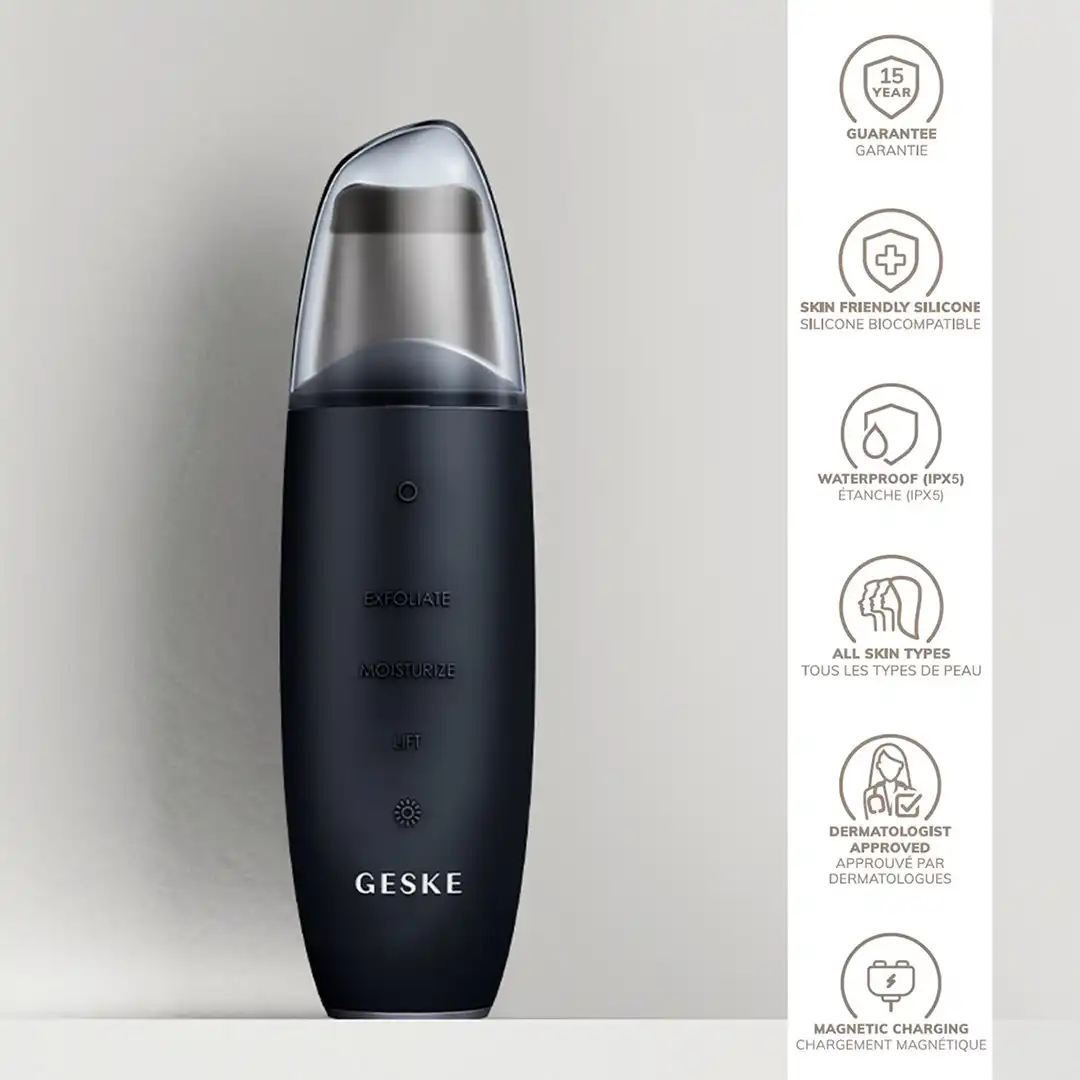 Discover the power of ions
The ION- Deep Nurturing Technology works like a magnet for impurities suction from your skin. The ION+ Ultra Hygienic Deep Cleansing prevents recurrence of pimple, acne, zit, blemish.
Provide your skin with even more effective care. Geske 9in1 peeling can also generate positive and negative ions. The first of them provide deep cleansing and gently exfoliate the skin, giving it a fresh, rejuvenated appearance. They also improve the absorption of nutrients. However, the ION-Deep Nurturing technology using negative ions guarantees quick and effective removal of contaminants. Peeling also stimulates collagen production, improves circulation and relieves facial tension.
Say goodbye to imperfections
Using Geske's 9in1 peeling, you can easily get rid of blackheads, pimples and other imperfections. Red Light Active Regeneration technology using red light minimizes fine wrinkles and helps maintain clean, smooth skin. You can also use the 3-level Youthful Glow Massage technology, which lifts, firms and tones the complexion. In addition, Pore-Opening Deep Warming technology opens pores and prepares the face for the effects of cosmetics, ensuring better absorption of nutrients.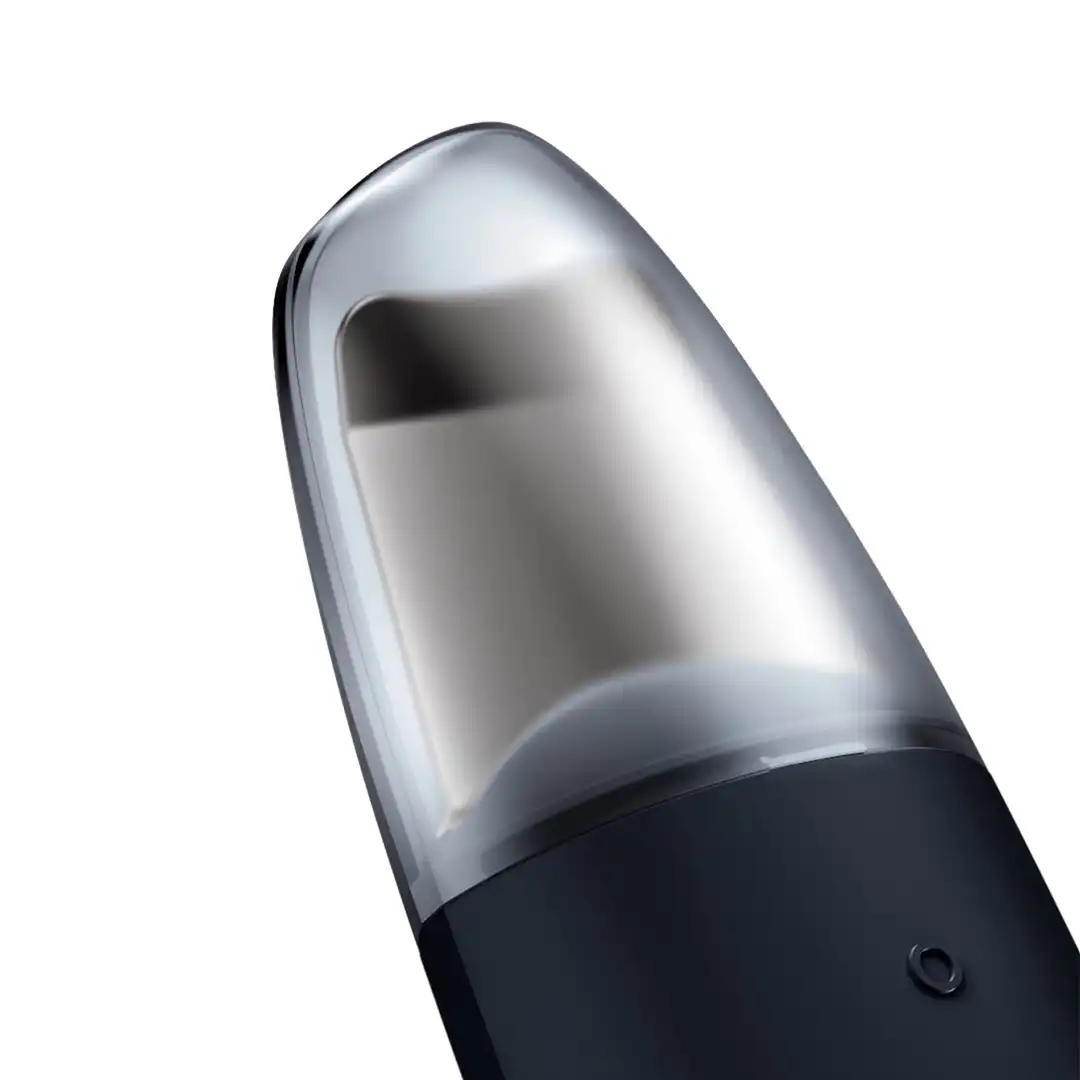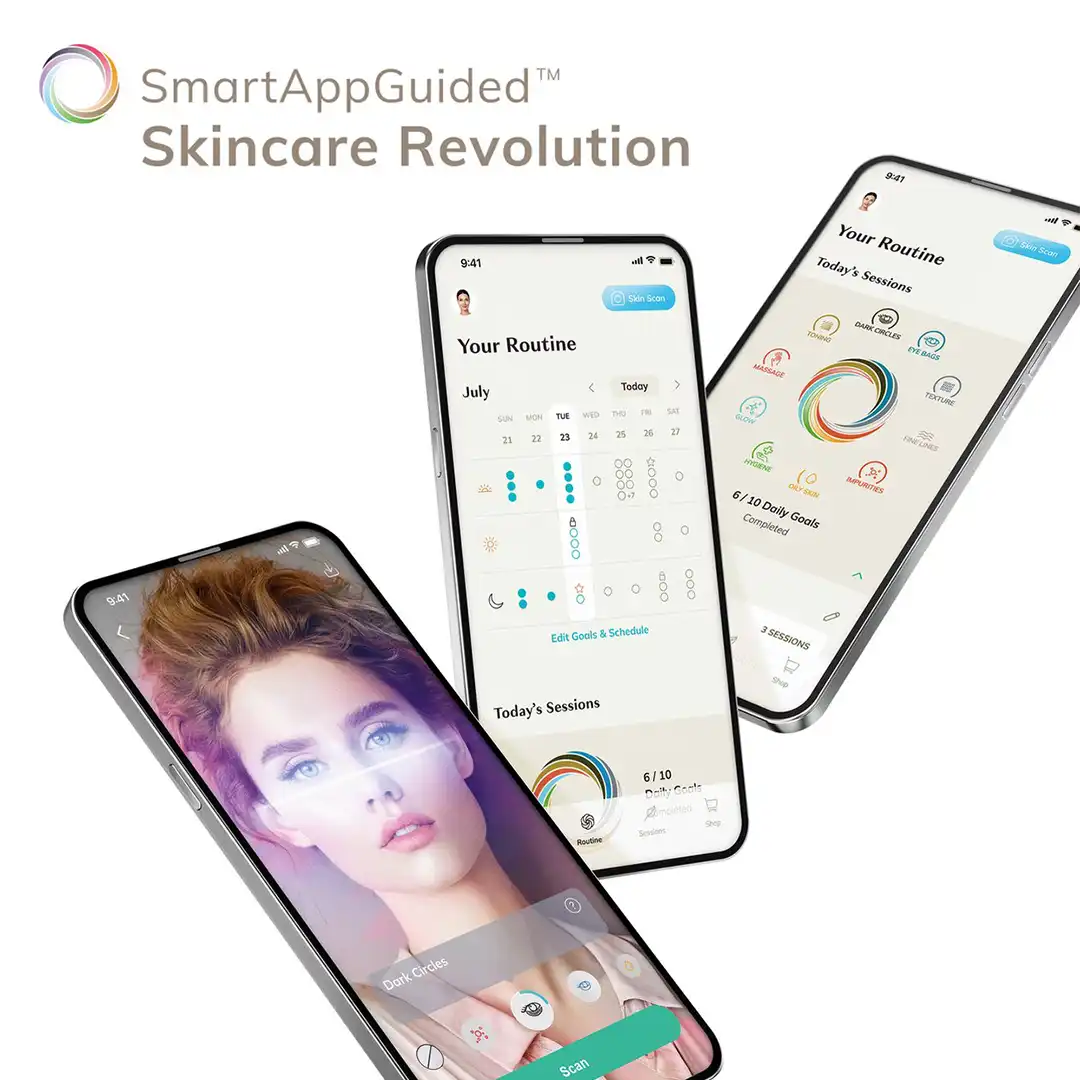 Access personalized Routine Guides with the GESKE Beauty App.
The app comes with a proprietary AI technology called Skin Scan that pairs your smartphone camera with our algorithms to identify the potential for skin improvements, as well as track your skin care progress. the app on the iOS AppStore or the Google Play Store and keep an eye out – we're constantly adding new features and content to help you on your skincare journey.
There are no question found.