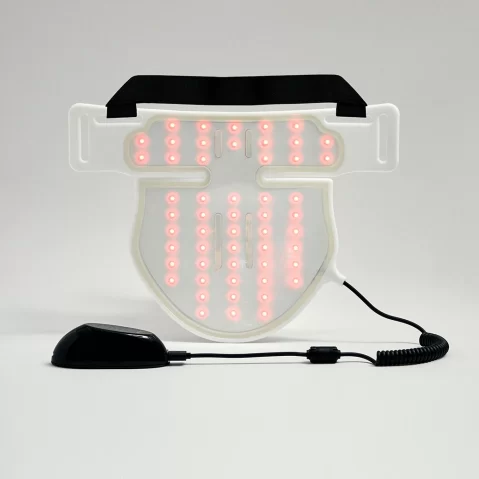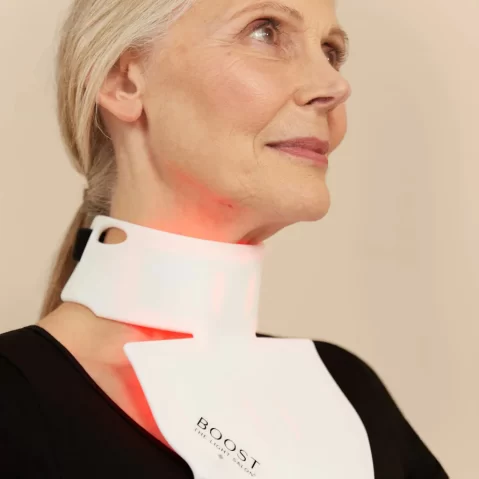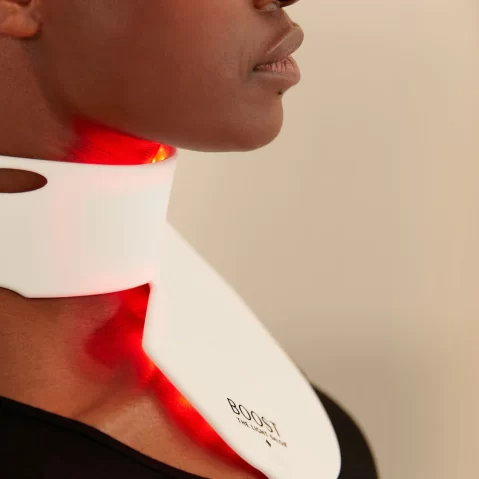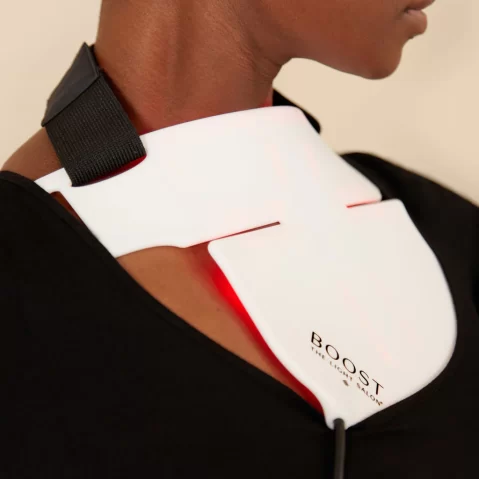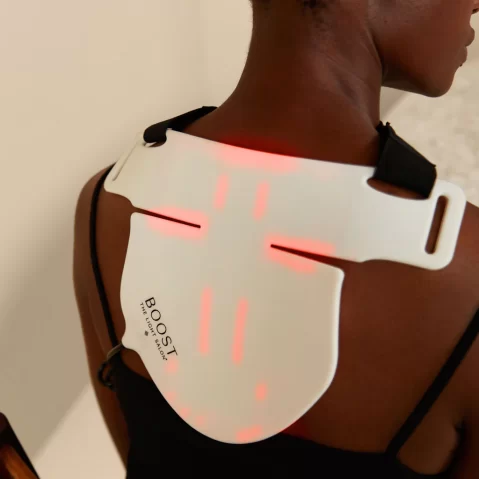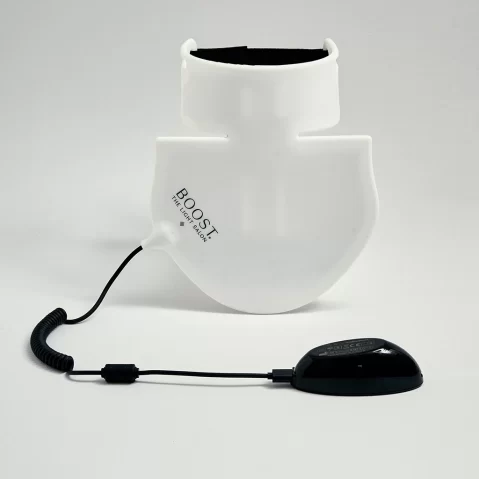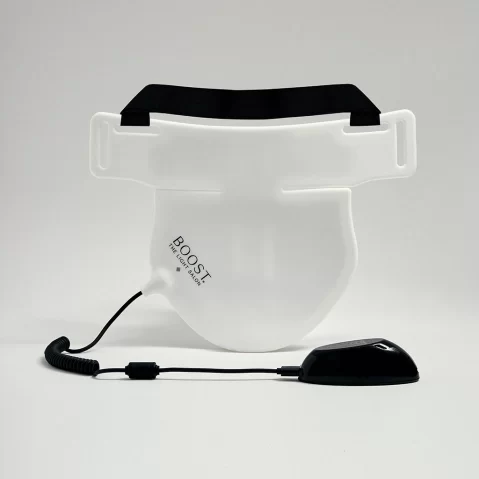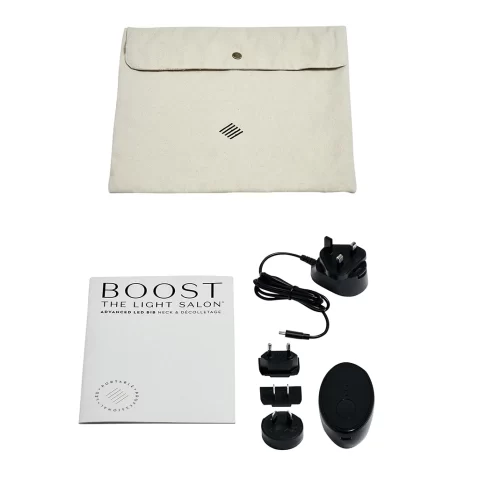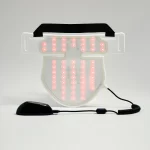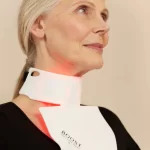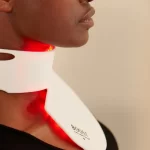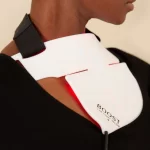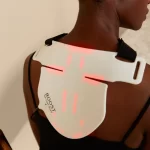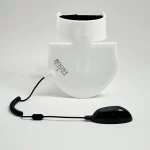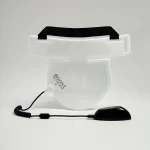 Boost LED Bib for Neck & Décolletage
Our skin-renewing Boost LED Décolletage Bib. Shaped to target the signs of ageing on your neck and chest, as well as blemishes and sun damage on the shoulders. 96% agree their fine lines appeared less visible in just four weeks.
22
people are viewing this right now
Out of stock

Guaranteed safe & secure checkout
Since the launch of our original LED Face Mask, Boost devices have gained a cult-like status. They've become a go-to for make-up artists, celebrities and industry experts alike, and continue to be a constant fixture in the beauty press. We're also thrilled to have been recognised by multiple prestigious retail and beauty industry awards.
Best Anti-Ageing Innovations:
Woman and Home 2022 Beauty Awards
Best Anti-Ageing Innovations:
Woman and Home 2021 Beauty Awards
Best Skincare Device/Tool:
Marie Claire Skin Awards 2021
Best Beauty Gadget:
Selfridges 2020 Beauty Awards

More Products
Boost The Light Salon
The Light Salon trailblazed the LED skincare movement by launching the UK's first in-store light therapy salons in high-end department stores. Our unrivalled at-home Boost device offering uses the exact same clinically proven wavelengths used in our professional salons. It's these precision wavelengths and the technology with which they're delivered that continue to make our devices the most effective in the marketplace.
Do you have to wear eye protection whilst using the Boost Mask
The Boost Mask has been tested to the highest internationally recognised eye safety standards and has been deemed safe to use on uncovered eyes. However, we do provide a pair of optional eyeshields to use, if you have eye sensitivity to light glare.
Does the Boost LED Mask deliver light that is 100% UV free
Red and Near-Infrared are on the opposite spectrum of light to UV and neither the in-salon treatment or the Boost LED mask contain any UV light.
How often can I use my Boost device
We recommend a minimum of 3-5x per week, but in fact love to use ours daily - which is the beauty and convenience of a wearable device.
Can my Boost device be used after Botox/ Filler/ face procedures
Yes, the Boost can be applied post injectables. Swelling from injectables normally occurs about 8 hours afterwards, so best time to apply is 6-8 hours afterwards. LED will take down the swelling in a day but bruising tends to take longer to treat.
Best practice for bruising is to use LED consistently for 2 days prior, as that will lessen your chances for bruising, and then continue for the week after.
Can my Boost device be used straight after surgery
LED is most effective in post-surgical treatment, if it begins 24 hours after the surgery, and continues for three days. However, you can continue treatment for as long and as often as you wish, as the treatment will continue to benefit your healing tissues.
Applying pre surgery, for a least two days, will also speed up the healing time.
What skincare can I use with the Boost Mask
Boost skincare has been scientifically formulated to enhance the effects of LED, and is the only product range to serve this specific purpose.
Does the Boost Mask or Collar stimulate facial hair
We have very different hair on our head to our face, so there is no need to worry.
Can I use the Boost devices with at home skin tools, such as microcurrent
Yes, LED is safe to use with almost all other skincare modalities.
Can you use the Boost devices straight after microneedling
Yes, and in fact the creator of microneedling recommends that LED is always used in combination.
Can the Boost Mask or Collar help rosacea?
Yes, we've had brilliant feedback on the results the Boost LED Mask has had on rosacea and redness.
Will the Boost Patch devices help with pain relief
Yes, Red 633nm and Near-infrared 830nm is clinically proven to help with pain relief and reducing healing time.
Age recommendation
From 16 years old. We do not have clinical research on the use of our wearable Boost LED devices on under 16's - for this reason, use on younger teenagers, and children is at the choice and risk of the parent. As each child's healing and recovery journey is different, we would recommend seeking advice from your doctor.

Boost LED Bib for Neck & Décolletage
Description
Glowing skin shouldn't stop at your neckline.
After seeing the visible results from our original LED Mask, our clients wanted to extend that enviable radiance to their neck and chest, and so the Boost LED Bib was born.
This highly wearable device is clinically proven to reduce wrinkle depth, increase collagen production, improve hydration and promote a feeling of deep relaxation.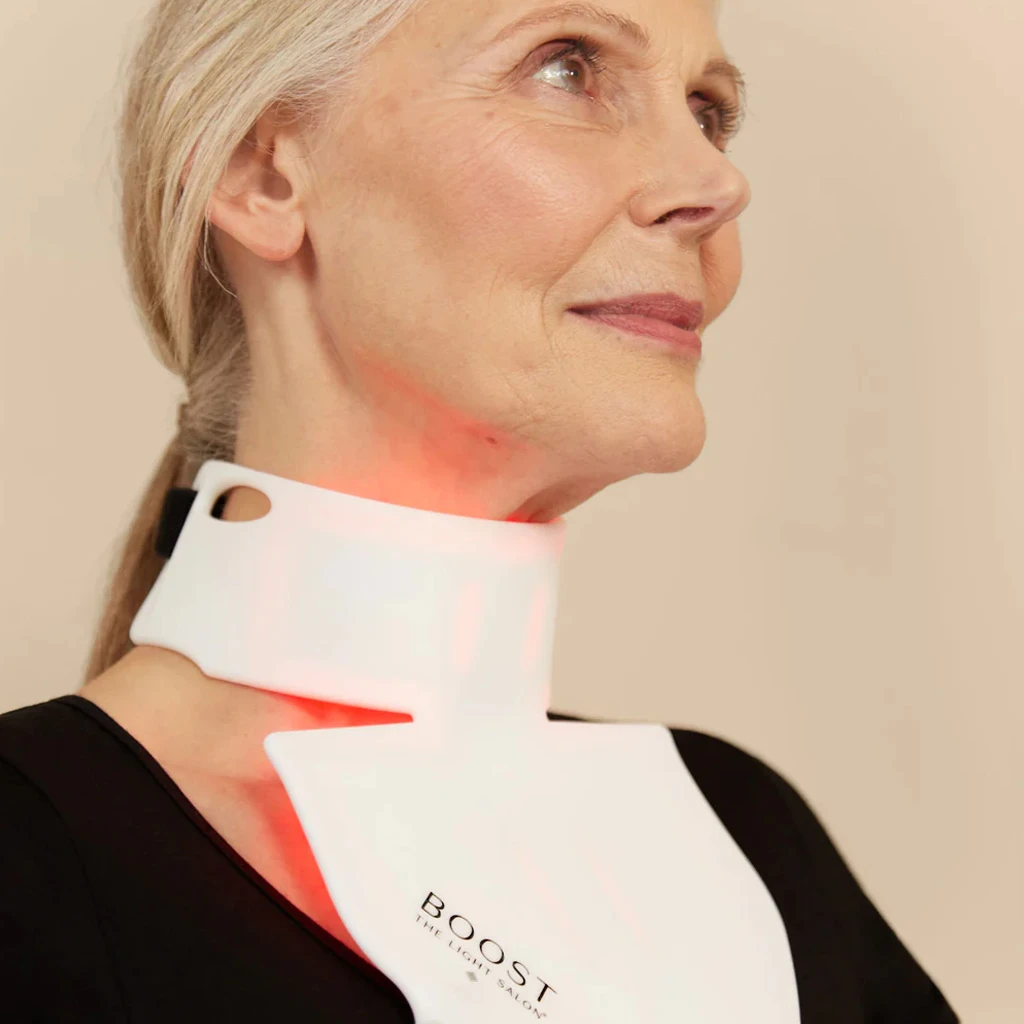 Our Boost LED Décolletage Bib couldn't be easier to use – all you need is clean skin and 10 minutes. Simply secure the Bib comfortably to your neck and chest (or back) using our adjustable straps, attach the controller, switch it on, and relax. The device will automatically time out at the end of your treatment time.
For best results, treat your skin a minimum three to five days a week.
Our Boost LED Décolletage Bib is backed by rigorous scientific research and clinical trials. Its precision wavelengths – red 633nm and near-infrared 830nm – are the most clinically proven to renew the skin at a cellular level.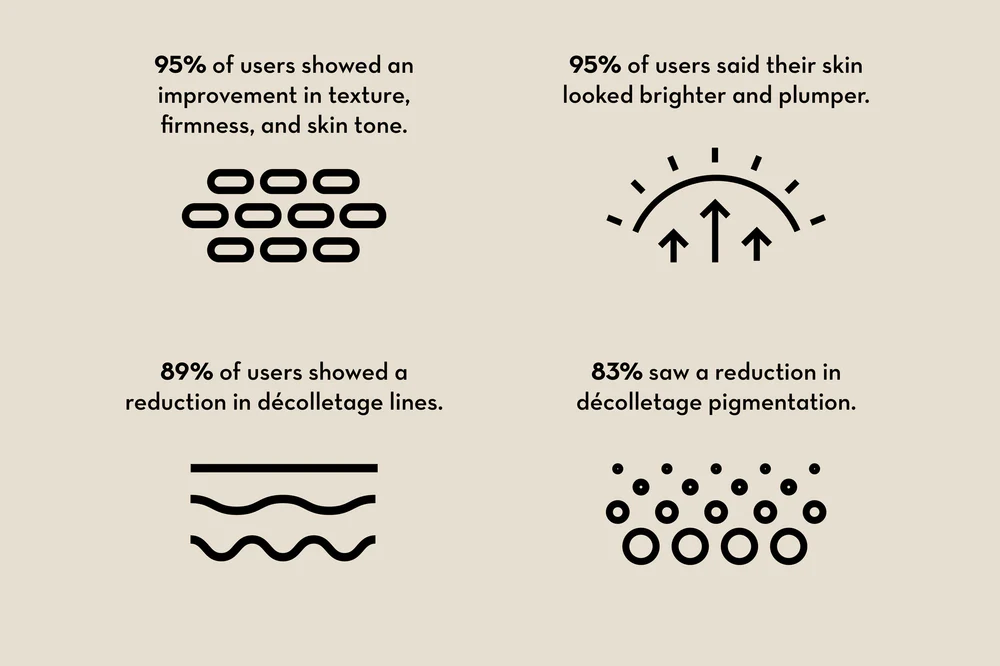 There are no question found.